Announcing SFCU Mobile Banking!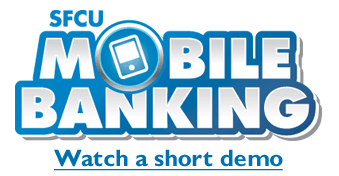 Secure, convenient, anytime access to your accounts
SFCU Mobile Banking gives you an instant connection to your accounts, any time, anywhere, on your mobile device. Mobile Banking is available to all our Home Branch Internet Banking Members.You must sign in to your online banking account to sign up for Mobile Banking.
Once enrolled, you will be able to:
Login with current Home Branch username and Password

View your account list and balances

View account transactions

Complete transfers and loan payments

Sign up for text alerts

Locate your local surcharge - free ATM's

Text Data Plan rates may apply
To learn more, click to view our demo.
To enroll in SFCU Mobile Banking, all you need is an eligible account and mobile device that can send and receive text messages and/or has access to the internet. If you need assistance, please don't hesitate to call 989-684-1730 or 800-589-1079.
Go to main navigation