Mobile Banking
Announcing SFCU Mobile Banking!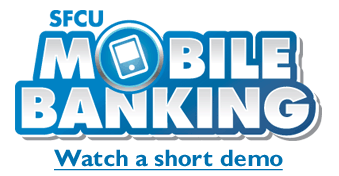 Secure, convenient, anytime access to your accounts
SFCU Mobile Banking gives you an instant connection to your accounts, any time, anywhere, on your mobile device. Mobile Banking is available to all our Home Branch Internet Banking Members.You must sign in to your online banking account to sign up for Mobile Banking.
Once enrolled, you will be able to:
Login with current Home Branch unsername and Password

View your account list and balances

View account tranactions

Complete transfers and loan payments

Sign up for text alerts

Locate your local surchanrge - free ATM's

Text Data Plan rates may apply
To learn more, click to view our demo. To enroll in SFCU Mobile Banking, all you need is an eligible account and mobile device that can send and recieve text messages and/or has access to the internet.
If you need assistance, please don't hesitate to call 989-684-1730 or 800-589-1079
Remote Deposit Capture Has Arrived!!!
Now you are able to deposit a check using your smartphone. See the requirements below.
Members must be enrolled in our Moble App Service - You can enroll by logging into your homebanking, service tab and enroll. You may watch video for instructions above. Upon enrolling you will receive text messages to finish your enrollment. This step is for if you are not already enrolled.
When you have completed the first two steps, contact a Member Service Representative at our branches. You will be notified of a change in terms and conditions once you log into our Mobile App.
The following are requirements for each check deposited through Remote Deposit Cptiure:
You must endorse the back of the check with a restrictive signature "FOR RDC ONLY AT SFCU" with your signature and account number.

Cannot be a foreign item Example: checks drawn on financial institutions located outside the United States or not payable in US Dollars.

Maximum per day $2,500.00

Payee of the Check must be on the account. Including joint owners.

Cannot be any Checks where the numericle amount and the written amount don't match.

The check has to be written in black or blue ink.

Cannot be any Check without a MICR Line on the bottom.

Cannot be any Check previouly converted to a substitute check.

Cannot be any Check that are no-negotiable (example: credit for merchandise).

Cannot be any Temporary Checks or Counter Checks.

Cannot be preiously returned for any reason.
For assistance please contact our friendly Member Service Department 800-589-1079
Thank you for choosing SFCU!