Certificates of Deposit
A SFCU certificate is a safe, secure investment that won't be impacted by financial market fluctuations. SFCU members investing even a small amount can enjoy CD rates and build up their savings quickly.

Look at these advantages:
You can open a CD with as little as $250
A variety of CD terms from three months to five years.
Interest can compound or be paid out monthly.
Additional deposits are permitted without changing the maturity date.
Automatically renews on the maturity date and each renewal will be the same as the original term.
Insured to $250,000 by the National Credit Union Administration (NCUA), an agency of the federal government
Click here for rates
~ Young Saver's Certificate
This is a special certificate just for young investors who are age 21 and younger. The minimum deposit to open is $100.00. Additional deposits of at least $100.00 can be added at anytime.
Federally Insured
.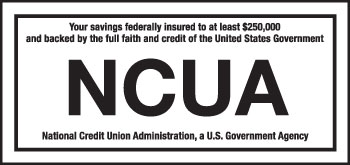 ~ SAVE TO WIN CERTIFICATE

We've made it easy to Save to Win. Here's what you need to do:
Join Sunrise Family C

redit Union.

Open a 12-month Save to Win share certificate with at least $25. This is your first entry into that month's drawing as well as additional drawings throughout the year.

Keep making deposits into your share certificate during the 12 months of your certificate. Every $25 deposit earns you another entry into the drawings, up to 10 entries a month. (You can deposit as much money as you want each month, but prize entries are limited!)

To be eligible to win prizes, your account must be open through the drawing period,

participants must be at least of sufficient age to enter into a binding contract (18 in most states), a resident of a state in which the principal place of business of one or more participating credit unions is located and be a member with a regular share account (the account which qualifies the individual for membership), in good standing at the participating credit union.

There will be prizes awarded each month, and quarterly. For a complete list of prizes click here. Plus, Sunrise Family Credit Union has its own individual member drawings each month.
When you Save to Win, you not only get a chance at winning big cash but you walk away with the deposits you made over the year – plus interest. A definite win-win situation!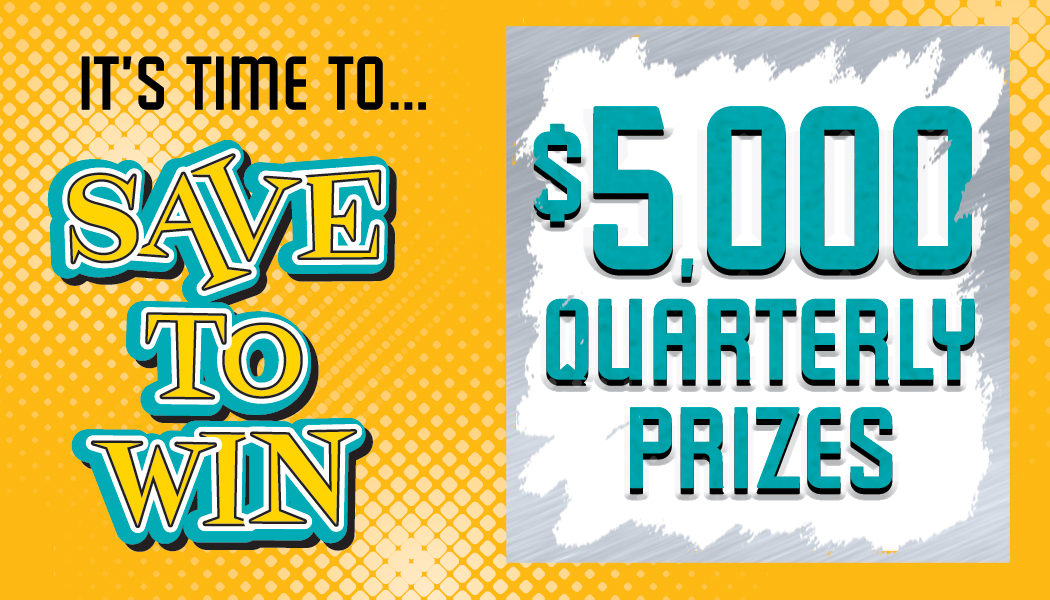 New Prize Features:
Prizes for Sunrise Family Credit Union Members
(1) $100 Winner

(2) $50 Winners

(4) $25 Winners
Additional prizes for Monthly State Level:
(150) $25 Winners

(1) $5,000 Winner

(5) $1,000 Winners

(10) $500 Winners
2016 Sunrise Family Members have one over $4,575.00 in cash deposits!!!
Congratulations!!!
THIS COULD BE YOU!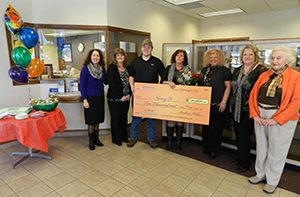 Congratulations Nancy F. from Essexville $10,000 2014 Grand Prize Winner
Congratulations!!! ...Monthly 'Save to Win' Winners for 2016!
October 2016
Pamela H.
Karrie G.
Mary M.
Louis D.
Brian G.
Matt B.
Lois Z.
Adam D.
Joann D.
Gerald H.
September 2016
Hanna G.
Carolyn L.
Linda M.
Brian G.
Terry C.
Karen G.
Ruthann B.
Gerald H.
Karen I.
August 2016
Elizabeth A.
Douglas P.
Paige P.
Billie L.
Lois Z.
Ruthann B.
Kathryn B.
Carolyn L.
July 2016
Nicole H.
Becky T.
Pamela H.
Karrie G.
Phonda K.
Brian G.
Lois Z.
Mary W.
Rae H.
Patricia K.
Gerlad B.
Eleanore B.
Howard H.
June 2016
Brad P.
Philip P.
Michael M.
Robert W.
Daniel H.
Patsy S.
Carl K.
Joann D.
Howard H.
Lynelle W.
May 2016
Billie L.
Eleanore B.
Eric R.
Michael F.
Patsy S.
Brian G.
Lauren R.
Lynelle W.
April 2016
Karrie G.
Joann Z.
Elaine K.
Mary M.
Mary Jo B.
Patsy S.
Laren R.
Tom G.
Brian G.
Janet K.
Eugene L.
March 2016
Linda R.
Billie L.
Jayne C.
Mark G.
Daniel S.
Susan B.
Lois Z.
Wanda G.
William F.
Charles B.
Lori H.
February 2016
Kari C.
Joann Z.
Eleanore B.
Thomas H.
Lisa C.
Kathryn B.
Vicki A.
Audrey B.
Jennifer L.
Jane R.
Gerald B.
January 2016
Elizabeth A.
JoAnn Z.
Eleanore B.
Sylvester R.
Nancy F.
Shirley W.
Stacey V.
Karen I.
Elaine K.